Auschwitz note leads to survivor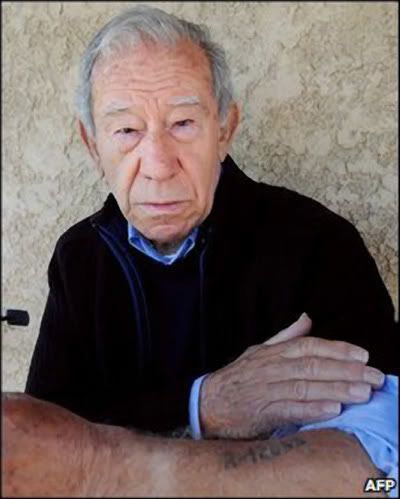 Auschwitz survivor Albert Veissid does not know who put his name on a list that remained hidden inside a bottle for more than 60 years.
Builders working near the site of the Auschwitz-Birkenau death camp found the bottle recently. It had been left in a cement wall by inmates.
"I'm surprised by all of this," the 84-year-old told BBC News from his home in a village in the south of France.
The note bears Mr Veissid's name along with those of six Polish prisoners.
Mr Veissid, a French Jew, was arrested by French police in Lyon in August 1943 and deported to Auschwitz-Birkenau, where Nazi Germany
murdered more than one million people, most of them Jews
.
Since Monday, Polish and French journalists have contacted Mr Veissid,
wanting to hear his story.
He only learnt about the message in a bottle when his grand-daughter told him what builders had found at the site in southern Poland.
The bottle had been left in the cement of a bunker near the Auschwitz camp.


The note is dated 9 September, 1944.
The construction team to which Mr Veissid was assigned worked outside the concentration camp, in buildings used by the German SS as living quarters and for storage.
In one warehouse the prisoners had to fortify the walls in a section which was to serve the Germans as an
air-raid shelter
.
"I worked in the bunker, and the

Christian Poles

worked above me," he said.
At least two other members of the group survived the camp
, an Auschwitz museum official said.
The daughter of Bronislaw Jankowiak - one of the Poles named on the note - has confirmed to the BBC that her father survived Auschwitz and died in Sweden in 1997.
In an e-mail, Irene Jankowiak said "he came to Sweden in 1945, rescued from Germany. There he met my mother, married and had four children.
One of them is me."
"My father seldom spoke about his experiences during his imprisonment. It was too harsh for him. Now it feels like I have got one more piece to my family history."
The building the Nazis used for storage today belongs to a school. Recently when builders started to lay bare the brickwork under the thick layers of old cement they discovered the bottle.
"I wouldn't have survived if I hadn't worked in that construction team at Auschwitz," said Mr Veissid. "I was very lucky. I was friendly with the Poles and they gave me some of their soup. And what they stole from the Germans I hid in the bunker - jam and other food."
But Mr Veissid has no idea who added his name and camp identification number to the Polish names on the note.
Mr Veissid's Holocaust journey began with a French police raid in August 1943. "The police rounded up quite a few young Jews that day," he recalled. "They handed me over to the Germans, who sent me to a labour camp in Provence. There the Gestapo came to find me and on 30 May 1944 I was sent to Auschwitz."
"The rest of my family hid from the Nazis - my father stayed in a cinema, my brother lived under a bridge and my mother and sisters found refuge with local peasants."
On 18 January 1945,
days before the Soviet army reached Auschwitz
, Albert Veissid was sent on a death march to the Buchenwald concentration camp in Germany.
Later he was again moved to a smaller camp, about 80km (50 miles) away,
where he was finally liberated.
Mr Veissid returned to France suffering from tuberculosis and it took him four years to recover
. Then he set up a small business in Marseille, selling clothes.
"Now I live in a pretty little Provencal village with my wife. I have a son aged 53, and a daughter aged 48," he told the BBC.
Over the years he has stayed in touch with other survivors and every year he goes back to visit Auschwitz.
This year he went with a group of schoolchildren
- to keep the
memories alive
for the next generation.


source ~ bbc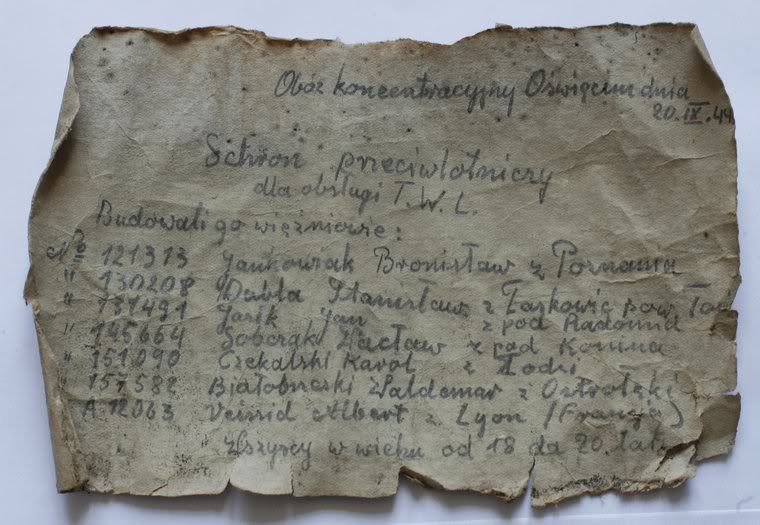 It is very peculiar that Robert doesn't know anything about the note, since his name and tattoo are rather personal. Also note his number is alpha-numeric, one letter and 5 digits; the 12063rd prisoner under A, and that ain't for Albert. Note also that none of the six Christian Poles were numbered above 157,600. Several of the current stories floating around the net continue to parrot the 6 million lie, along with 3 million at the Auschwitz camp alone, along with gas-chambers etc, ad-nauseum. Umm.. what about the Palestinians?

The Truth behind the gates of Auschwitz pt.1

The Truth behind the gates of Auschwitz pt.2
David Cole on The Donahue Show
Jews-only mafia-cult-colony