Auschwitz note translated from Polish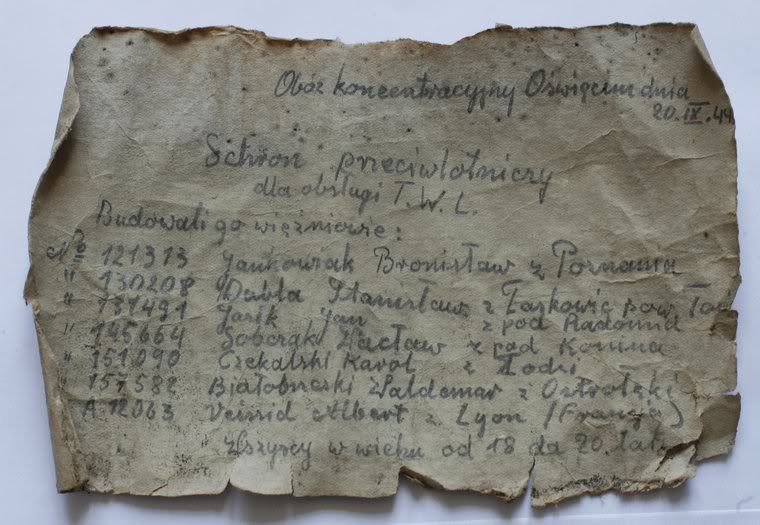 Workers, who were demolishing building of old school in Oswiecim (Poland), found a bottle hidden in the wall. In the bottle there was a letter written during WW2 (September 20th, 1944). This building was part of KL Auschwitz during WW2.
The letter says:
"KL Auschwitz 20.IX.44. AA shelter for T.W.L. crew. Built by prisoners: No 121313 Jankowiak Bronisław from Poznan, 130208 Dubla Stanisław from Laskowice, Tarnow district, 131491 Jasik Jan from Radom neighbourhood, 145664 Sobczak Waclaw from Konin neighbourhood, 151090 Czekalski Karol from Lodz, 157582 Bialobrzeski Waldemar from Ostroleka, 12063 Veissid Albert from Lyon (France). All 18-20 years old".
Letter will be displayed in Auschwitz museum.
NO MENTION OF GAS CHAMBERS
The tatooed numbers do not exceed 157,600.
http://news.bbc.co.uk/2/hi/europe/8022860.stm
http://news.bbc.co.uk/2/hi/europe/8021845.stm
The Truth behind the gates of Auschwitz pt.1
The Truth behind the gates of Auschwitz pt.2
David Cole on The Donahue Show
Jews-only mafia-cult-colony