The Racist Result Of zionist-war Propaganda
download
On July 1st,
Marwa Sherbini
, 31, was stabbed 18 times by "Alex W." in a Dresden courtroom. Husband Elwi Okaz was also stabbed as he tried to save his pregnant wife, and then he was shot by police who
assumed
that he was the assailant. Their 3-year-old son Mustafa was in court, watching in horror as his mother and father were being butchered.
Laila Shams, el-Sherbini's mother, told the el-Wafd daily that her daughter said she'd difficulty finding a job in Germany because of her head scarf. "One (employer) suggested she remove her head scarf to get a job. She said no," she said.
Sherbini, a former national handball champion, and Okaz, a genetic engineer who was just about to submit his PhD, had reportedly lived in Germany since 2003, and were believed to be planning to return to Egypt at the end of the year. They were expecting a second child in January.
"Alex," 28, is an unemployed man from Perm, Russia who hated Muslims. He was a their neighbour, and often taunted Marwa, screaming "terrorist" and "Islamist whore" at her; in one incident he tried to remove Marwa's hijab. He was fined 750 euros ($1,050) for insulting her in 2008; the stabbing took place at the appeal hearing.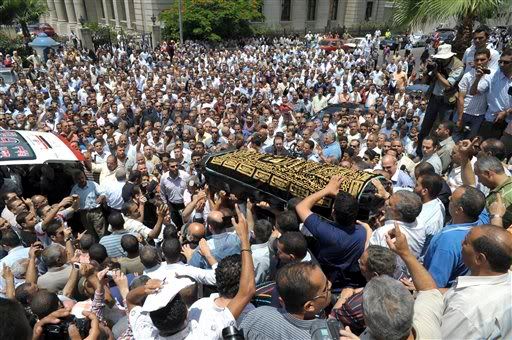 The incident occurred just days after Nicolas Sarkozy gave a major policy speech denouncing the burka, many Egyptians believe the death of Sherbini is part of a broader trend of European intolerance towards Muslims.
Even though Alex had made his anti-Muslim sentiments clear, there was no heightened security and questions remain as to why he was allowed to bring a knife into the courtroom.
Abdel Azeem Hamad, chief editor of the independent Egyptian daily el-Shorouk, said that if the victim had been a Jew, there would have been an uproar.
~ WANTED ~
Scarf Bandit ~ Dead or Alive ~
8 out of 16 states in Germany have banned the Muslim headscarf, as France has done. Women all across Europe have lost their jobs because of bigotted employers, often government funded jobs such as in education. However, the Turban, scarf, Kippa/Yarmulke, Kolpik, Shtreimel, ski-mask, sombrero, beret, bicorne, cloche hat, kepi, mortarboard, bear hat, tuque, Zuchetto, ghutrah, keffiyeh, ushanka, balaclava, hood, snood, baseball and dunce cap, bucket, top and hard hat have not been banned.
This is nothing less than the pre-meditated murder of two innocent human beings, and the attempted murder of another, based on their religion and race; a classic example of a 'hate-crime.' Why is it that Alex is being protected, his name hidden and the news obscured, while the German authorities did nothing to protect Marwa and Elwi? Not 'choosen' enough for you? All this while history revisionists who search for the truth are locked up, without any actual crime being committed.
she died defending our freedoms
french hijab ban
war on freedom
guardian.co.uk
huffingtonpost.com
news.bbc.co.uk
Petition for Justice and answers for Marwa el-Sherbini