Galloway Gaza convoy leaves Syria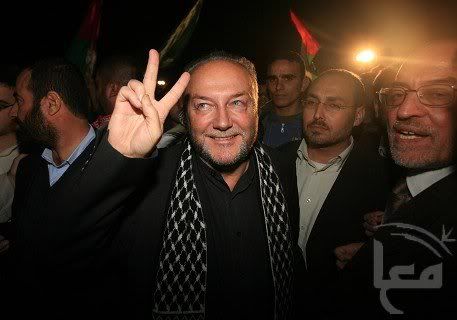 Bethlehem –
Ma'an
– A British-led aid convoy bound for the Gaza Strip is on its way to the Egyptian port of Al-Arish after departing Syria by boat, organizers said on Sunday.
The Viva Palestina convoy, led in part by firebrand British MP George Galloway, loaded 210 truckloads of food and medical supplies onto a ferry in the Syrian port of Latakia.
The group, which set out from London nearly a month ago and drove through Turkey and Syria, spent five days stranded in Jordan after Egypt denied it permission to travel to the Red Sea port of Nuweiba, insisting that aid convoys should transit through the port of Al-Arish, on the Mediterranean.
The convoy had originally planned to enter Gaza on 27 December, the one-year anniversary of Israel's war on the Gaza Strip which left more than 1,400 Palestinians and 13 Israelis dead.
In a message released on an affiliated website on Sunday, Viva Palestina's organizers said they received verbal assurances from Egypt that they would be allowed to dock in Al-Arish on Monday.
Another group, the Gaza Freedom March, also faced opposition from Egyptian authorities with a plan to bring 1,300 international demonstrators to the Strip for a march against the Israeli-led blockade. Fewer than 100 from the group were allowed into Gaza, the rest stranded in Cairo.
Galloway led two other successful convoys to Gaza in 2009.
Israel has maintained a siege of Gaza since June 2007 when the elected Hamas government took full control of the territory, shutting down security forces loyal to rival group Fatah.