Palestinian Intifada breaks out throughout
Occupied Jerusalem
[ 16/03/2010 - 09:59 AM ]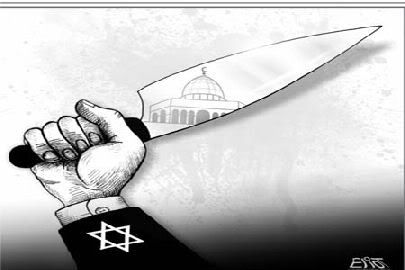 by Eli Saliba
OCCUPIED JERUSALEM,
(PIC)
-- A Palestinian Intifada (uprising) has broken out in different areas of occupied Jerusalem Tuesday morning in response to the calls for participating in the day of anger in protest at the serious Israeli violations against Islamic holy sites in Palestine.
The clashes started to break out when Israeli troops attacked Palestinian worshipers after they finished their dawn prayers in the vicinity of the Aqsa Mosque today especially near Al-Asbat Gate, in Al-Issawiya area and Su'fat.
Al-Quds media center reported that soon after the Palestinians finished their prayers, a large number of Israeli troops encircled them and embarked on beating them with batons and firing stun grenades.
It also said that clashes took place afterwards in different areas of Jerusalem during which Palestinian young men torched tires and threw stones at Israeli troops and policemen.
For his part, deputy head of the Islamic Movement in the 1948 occupied lands Kamal Al-Khatib told Al-Jazeera satellite channel on Tuesday morning that there were many casualties among Palestinian young men during the clashes that have broken out since the early morning hours in different areas of Jerusalem.
Khatib said that the Israeli police used batons and tear gas grenades to attack the young men, adding that the IOF troops also prevented dozens of buses carrying Palestinians from reaching the Aqsa Mosque.
In an earlier incident, the Israeli occupation forces (IOF) on Monday afternoon stormed Al-Issawiya area in Jerusalem and clashed with Palestinian protesters who used stones and empty bottles to defend themselves against the troops' attack.
Local sources told the reporter of the Palestinian information center (PIC) that the clashes broke out in the old city of Jerusalem and in the areas of Attour, Issawiya, Ras Al-Amud and Salahuddin.
They added that large numbers of Israeli soldiers were deployed on Salahuddin street near Al-Sahira Gate after young men attacked an Israeli police station in the area and showered it with a barrage of stones and empty bottles.
Eyewitnesses also said that an Israeli military helicopter was seen flying together with a surveillance balloon, that was launched two days ago over Jerusalem to watch citizens and provide more protection for Israeli settlers.
These confrontations happened only few hours before the Israeli opening of what is called the ruin synagogue near the Aqsa Mosque on Tuesday. Jewish extremist groups' declared intention to attack the Aqsa Mosque on this day also provoked a state of anger among the Palestinians.
In another related incident, 10 Palestinian students from Bir Zeit university were wounded on Monday when IOF troops opened fire on their march near the Atara military checkpoint, north of Ramallah city.
The students started their march from the university campus to protest against the Israeli escalating steps to Judaize Jerusalem and the opening of the ruin synagogue and headed toward the checkpoint where the Israeli troops fired live and rubber bullets at them.