700 children die of hunger every day in Congo

Congolese officials say at least 700 children under the age of five are dying of hunger every day in the Democratic Republic of Congo.
On Tuesday, Congolese Health Minister Victor Makwenge told reporters that over a million women between 15 and 49 years old are also malnourished in five of the country's provinces, AFP reported.
"At least 700 children under five years old are dying every day in the five provinces, where only one child out of five has a varied diet," Makwenge said.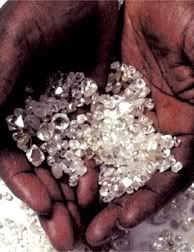 "Close to 530,000 children under five and more than a million women need urgent food aid."
The provinces of Equateur, Kasai, Kasai West, Katanga, and Maniema together account for 51 percent of the population of the vast Central African country.
The United Nations Children's Fund (UNICEF) says that malnutrition is a public health problem in the impoverished country.
Despite its rich potential for food production, the World Food Program says that every month it helps to feed about a million vulnerable children and pregnant women in Congo.
Source
6srael's blood diamonds