White House war criminals gather to celebrate their 'Wars for Israel' Campaign
There will be caviar, foie gras and enough $25,000.00 bottles of rare wine to float a battleship.
The two biggest mass murderers, Bush Sr. and Junior, will be there, accepting accolades from their accomplices, henchmen and henchwomen.
And our best creation yet, Obama, will be on hand to MC the event.
Please remember to bring a hankie for the staged photo op where we'll fly an American flag and listen to a canned horror story about fighting and dying in Wars for Israel.
If you have trouble tearing up, ask one of our aides and they'll will give you some saline based drops to get you that 'teary-eyed' look that CNN just loves to show!!
And be sure to wear the Israeli-American flag pins!!
Signed
WH Chief of Staff Rahm Emanuel
Congressman Ron Klein: War remembrance conflicts with Rosh Hashanah
A South Florida congressman wants a national military remembrance to be rescheduled so it doesn't conflict with the Jewish holidays.
U.S. Rep. Ron Klein, D-Boca Raton, wrote a letter this week to the executive director of The White House Commission on Remembrance telling her the event would conflict with Rosh Hashanah, which begins at sundown Sept. 18 and ends Sept. 20. The event is now scheduled for Sept. 19.

"As you know, American Jews have historically constituted an important part of the United States military and continue serving honorably today," Klein wrote.

According to the event's website, the dinner the night before the event includes a spectacular list of guests including: President Barack Obama and First Lady Michelle Obama; both Bush families; the Carters; the Clintons; California Gov. Arnold Schwarzenegger and his wife; and former Mayor of New York Rudy Giuliani.
Yes, American Jews have
always
played an important part of the US military. Just look at these Arlington National Cemetery gravestones and count all the Star of David's you see!!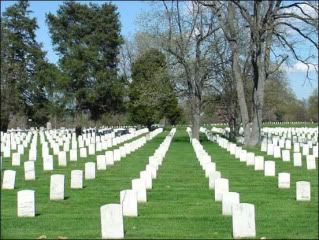 Don't they know that the typical way Israel celebrates a holiday is to bomb the hell out of a neighboring country?