Traitor abbas advised not to return to Ramallah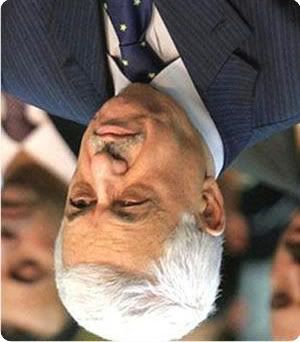 Like a squirrel, abbas doesn't know where he hid his nuts.
RAMALLAH, (PIC)-- Informed Palestinian sources revealed on condition of anonymity that Mahmoud Abbas was advised by some of his aides to delay this return to Ramallah in the West Bank until the popular anger and the scandal he caused by his position regarding Goldstone's report subside.

According to Quds Press, the sources said that political and security advisors to Abbas asked him not to return to Ramallah and continue with his regional and European trip through setting a long program of visits until the popular fury is absorbed.

In another related context, the Palestinian ministry of interior in the Gaza Strip announced Wednesday that it started to file lawsuits on behalf of Gaza police and security men who were killed by Israel during its war on the Strip against all officials of the Palestinian Authority (PA) in Ramallah who were responsible for withdrawing Goldstone's report on Israeli war crimes.

Spokesman Ihab Al-Ghussein stated that the interior ministry would work on filing these lawsuits with all concerned legal and human rights institutions, noting that more than 250 members of the Palestinian police and other security apparatuses were massacred during the Israeli war on Gaza.

In the same context, a number of Palestinian professors and intellectuals called on Arab and Muslim countries not to deal with Abbas because he waived the interests of his people, collaborated with the Israeli occupation and became a threat to national and Arab security.

In a news conference held on Wednesday in Palestine square in Gaza city, their spokesman said that Abbas and his entourage do not represent the Palestinian people after they favored their personal interests over the Palestinian people's.

The spokesman underlined that Abbas, through his new scandal, confirmed some of his previous treacherous positions against the Palestinian people, most notably, his involvement in the liquidation of former president Yasser Arafat and his security collaboration with the Israeli occupation.

On the same day at noon, the Italian capital Rome witnessed a massive march attended by hundreds of Palestinians and Arab residents who condemned Abbas's visit to the country and his position towards Goldstone's report.

For its part, Ala'a Tafesh, the secretary-general of martyr Jawdah group affiliated with Al-Aqsa Brigades, the armed wing of Fatah, said Wednesday that the resistance fighters within Fatah would form a revolutionary court to prosecute all those involved in the withdrawal of Goldstone's report.

Tafesh added in a statement posted on Al-Jazeera net that the only punishment that fits this political crime is the "death penalty" before the Palestinian masses so as to be a lesson to those tempted to betray the Palestinian people and their cause.
palestine-info.co.uk
Mahmoud abbas Convinced israel To Continue Strike On Gaza